Exciting, Safe and Professional Rafting Experience
"An exciting, safe and professionally-run half day trip that gave me a great taste of what rafting in Tena – Ecuador has to offer – and I can't wait to do more!"
Want to try rafting on your travels, but not sure where to begin? We asked (client/customer etc) and first-time rafter Jodie (Sims) what she thought of her recent experience…
"If you're thinking of rafting in Tena, do it!
With the highest concentration of rivers per square kilometre in the world,  Tena seemed the perfect spot to try my hand at something I've always wanted to do. Kayak Ecuador have a solid 5 star rating on Trip Advisor, and having spoken to their friendly English-speaking team at the Tena office I felt confident in choosing them. I opted for the popular Class 3 Jatun Yacu as a gentle introduction to rafting, which I thoroughly recommend for all beginners.
After collecting our kit, driving to the river, and a thorough but concise safety briefing, we were on the water perfecting our paddling technique and learning about the river and it's stunning surroundings. Our guide Victor instructed my group in English, and was supported by two Safety Kayakers.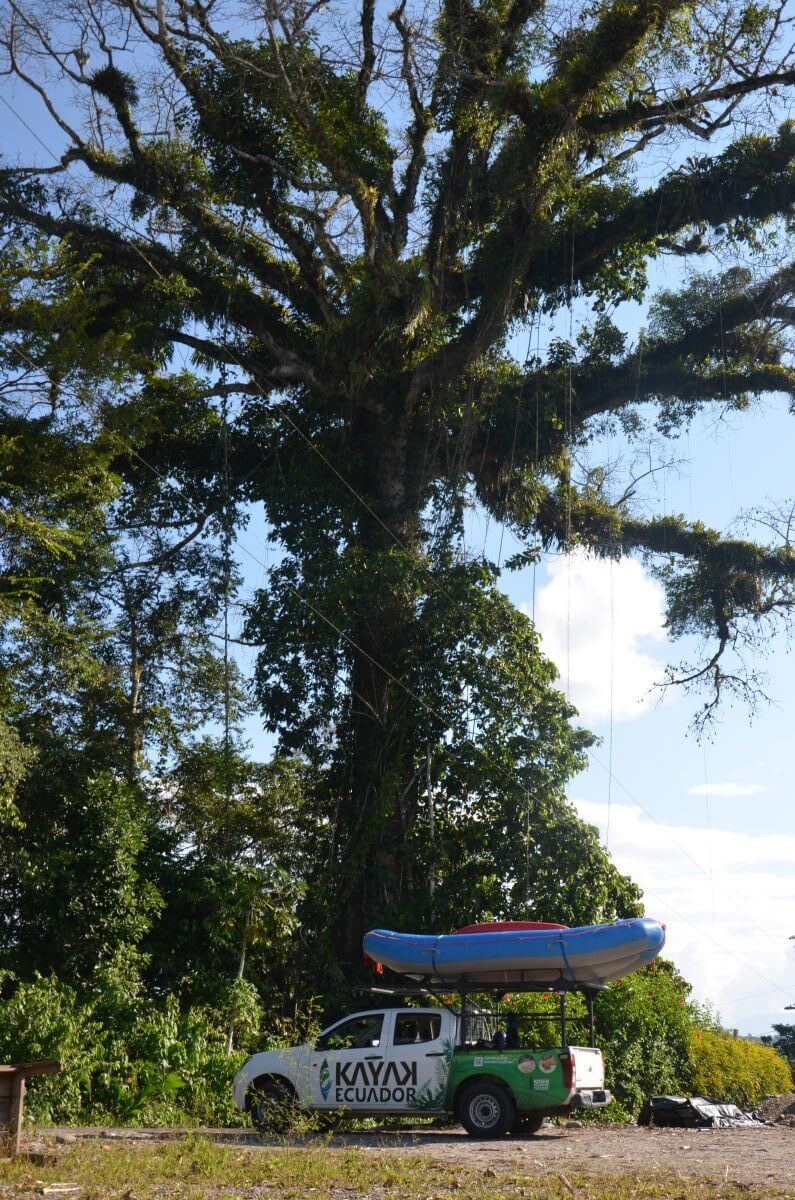 Scenery
The scenery surrounding the river is beautiful, and the water immediately displayed it's short bursts of exhilarating white water rapids followed by longer periods of calm, offering the perfect opportunity for wildlife-spotting and people-watching along the river banks.
Rafting during Carnival weekend also meant that we could join the party during a brief beach stop. Carnival weekend is a fantastic time to be in Ecuador, and as our boat arrived in (Iloculin/Shandia/?) we were made to feel very welcome by locals, all whilst being sprayed with foam and water by children!
The camaraderie you feel with your fellow rafters is brilliant, even when they're total strangers, and the feeling of running a rapid and 'high fiving' after you complete it is a fantastic memory I'll hold on to.
So whether you're travelling in a group or solo, young or old, Spanish or English-speaking: Rafting Tena's rivers with Kayak Ecuador's fun and experienced guidance offer a once in a lifetime experience! I couldn't have picked a better place or company to introduce me to rafting, and can't wait to try a Class 4 river.
Thank you Kayak Ecuador!"