Once an important means of transportation for Ecuador's indigenous people, today the rivers are an important source of electricity for the country. With over 2,000 rivers flowing through Ecuador, conquering these beautiful and mighty waterways is an adventure to be experienced and adored at least once in a lifetime. Whether you are a beginner or a savvy and experienced rafting person, the diversity of Ecuador's rivers got everyone covered. But why Ecuador? What makes this country and its whitewater rafting so special? Let's find out some of the best rivers to catch the best rafting in Ecuador as well as why you should strongly consider doing it here, than anywhere else.
Why Rafting in Ecuador?
There are multiple reasons why Ecuador today is one of the best places to go rafting on the planet! Intrigued already? Here are some of main points to make a case for Ecuador to be your next rafting destination!
The Price – Even with a US dollar as the national currency, Ecuador still holds an advantage in prices compared to countries like Canada, Germany, and the USA as the tour prices are usually half cheaper.

Weather – Because of Ecuador's weather, rafting without a wetsuit in glacial waters is a possibility without leaving the comfort zone.

Amazonian Experience – Besides the outstanding whitewater, the rivers of Ecuador also provide an opportunity to experience the incredible Amazon jungle and the rhythm of life of its native inhabitants, discover unique fauna and views of wonder.

Professional Guides – Ecuador doesn't have seasons, which allows rafting and kayaking sport to be performed all year round. This opportunity allows our guides to be highly trained because they work 4 to 6 days a week all year round and not only a season per year.

These main reasons build a foundation for Ecuador to be one of the world's premier destinations for outdoor sports and adventures like rafting. And once here, you will quickly see why!
Jondachi – Hollin Rivers | 1 Full Day Rafting
Let's start with the river adventure tour in Ecuador that will keep even the most experienced ones engaged and on the edge! Rafting Jondachi & Hollin Rivers Full Day Expedition will not only go beyond the roaring class IV rapids but your expectations too.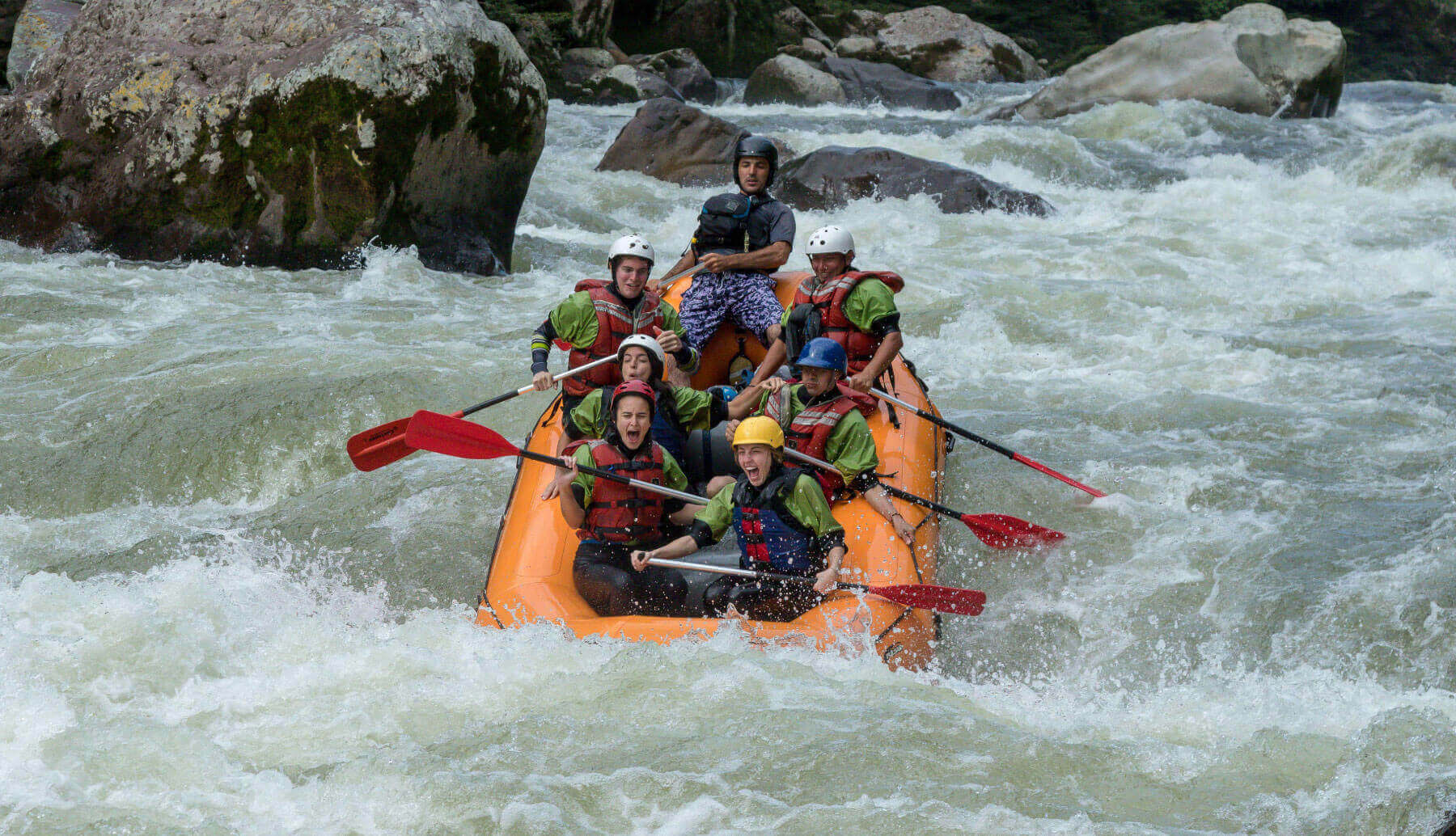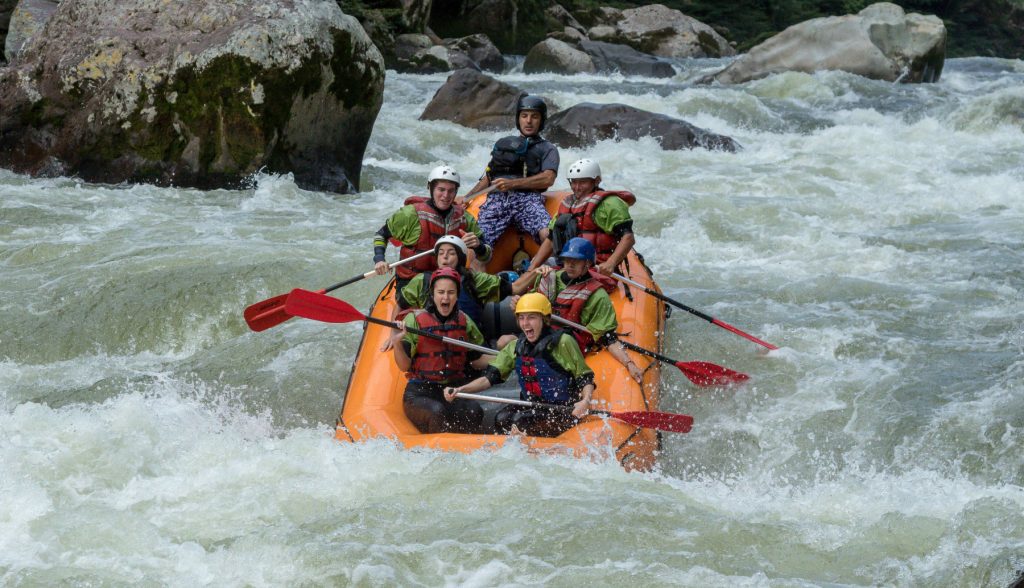 This tour not only boasts rafting, but it also combines many other elements that will compose one daring experience. And it all begins with its remote location and a scenic 45-minute hike to the first river of Jondachi. Consider this jungle trek as a lovely bonus and a warm-up for what is about to come.
Step inside the green and picturesque Gran Cañón del Jondachi for one memorable hike to witness breathtaking rock formations, swim in the natural lagoons and be surrounded by a lush jungle environment. Excited already?
As we mentioned before, the rafting starts In one of the most beautiful rivers on the planet, the technical and difficult yet crystal clear and magical in its own way – the Jondachi River. Flowing out of Ecuadorian Andes and draining into the Amazon basin, it has an unmatched value of economical, historical, cultural and ecological significance. However, your rafting adventure will soon transition into the second river.
The Hollin river relinquishes itself and takes it to another level with bigger rapids and water, delivering that extra punch of adrenaline with opportunities to relax in multiple recover pools as well.
Embrace cascading waterfalls on the way, stunning canyons, nature's art in rock formations and take a peek at rich wildlife. All, with an energizing lunch in between and guides that are dedicated, professional and 100% certified. Are you ready?
Jatun Yacu River | 1 Full Day Rafting
Translated as Big Water from Quichua, the JatunYacu river is one of the best rivers out there in Ecuador, perfect for beginners, first-timers, kids over 7 years old and intermediates alike! Multi-day trips, half-day adventures or full-day rafting, whether you have rafted a bit before, or never touched anything similar, you can never go wrong with these adventure tours presented once again, by Kayak Ecuador.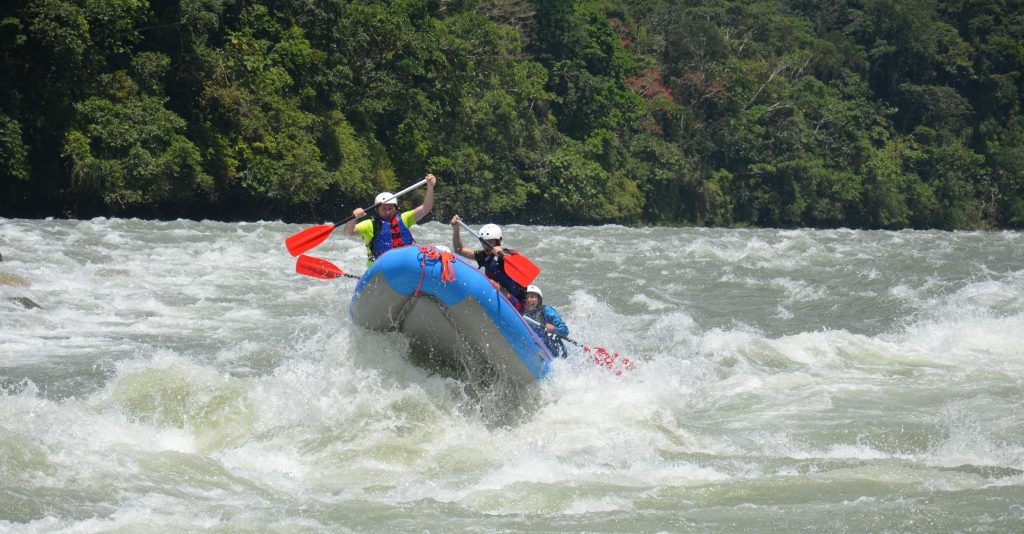 Situated in the protected, beautiful and biodiverse National Park of Llanganates, the already fantastic views can be enjoyed from the comfort of the car seat while heading up to reach the Kichwa Community.
The river rapids and flow is balanced very well for both beginners and intermediates to be excited, have some adrenaline and tons of fun. Not to mention the incredible landscape, unique textures of volcanic rocks, striking mountain backdrop and for that cherry on top, a lunch break that deserves its own spotlight.
Not only you will have a chance to discover an indigenous rainforest village of Kichwa, but leisure in a charming river beach, reenergize and learn about the handicrafts and local chocolate.
Quijos River | 1/2 or Full days
Every river in Ecuador has its own identity, character, and beauty, and Quijos River is not an exception. The beginnings of this energetic body of water can be traced back to the giant Antisana Volcano at 5,758 meters and its breathtaking glaciers.
Located high in the Andes, between Tena and Quito, it makes a steep and wild descent towards the iconic river of Amazon and a cloud forest with Quijos canyon that is simply striking and full of life. The Quijos canyon runs along the northern portion of the survey region, throughout the course of Quijos river, while forming two sub-landscapes – the high plains and rocky outcrops, creating a landscape like no other.
The river offers high-quality and world-renowned rapids to everyone, whether you are an experienced rafter or a beginner with a courageous and adventurous heart. This stretch of high volume non-stop white water action runs at the altitudes of 2000 meters and is the definitely the best class IV rafting tour that can be taken from Quito.
And don't worry about chilly waters, we Kayak Ecuador will provide wetsuits for our thrill-seeking clients so that rafting in Ecuador becomes true once in a lifetime experience.
Upper Hollin, the best Rafting expedition in Ecuador | Overnight Expedition
While the combination of Jondachi and Hollin rivers are unmatched, the Hollins can be an ultimate adventure on its own too. We mentioned bigger rapids and water is what Hollins river produces compared to Jondachi, but that is definitely not all.
The extraordinary two-day trip will take you on a journey through rapids stretching from class III to class IV, and of course, surroundings that will make you fall in love with both rafting and Ecuador.
Whether it's the waterfalls that constantly flows into the canyon or wildlife that can take by surprise, from birds, monkeys, and others showing up to the drafting party.
With more than 50 kilometers of untouched Ecuador, perfect rapids for unforgettable adventure and a scenic overnight trip to enhance everything, the Hollins River expedition is one of the best things you can experience when rafting Ecuador.
Napo river, easy but beautiful! | Family Float
This one is for all the adventurous families out there, as Napo river is perfectly suited for an enjoyable family trip.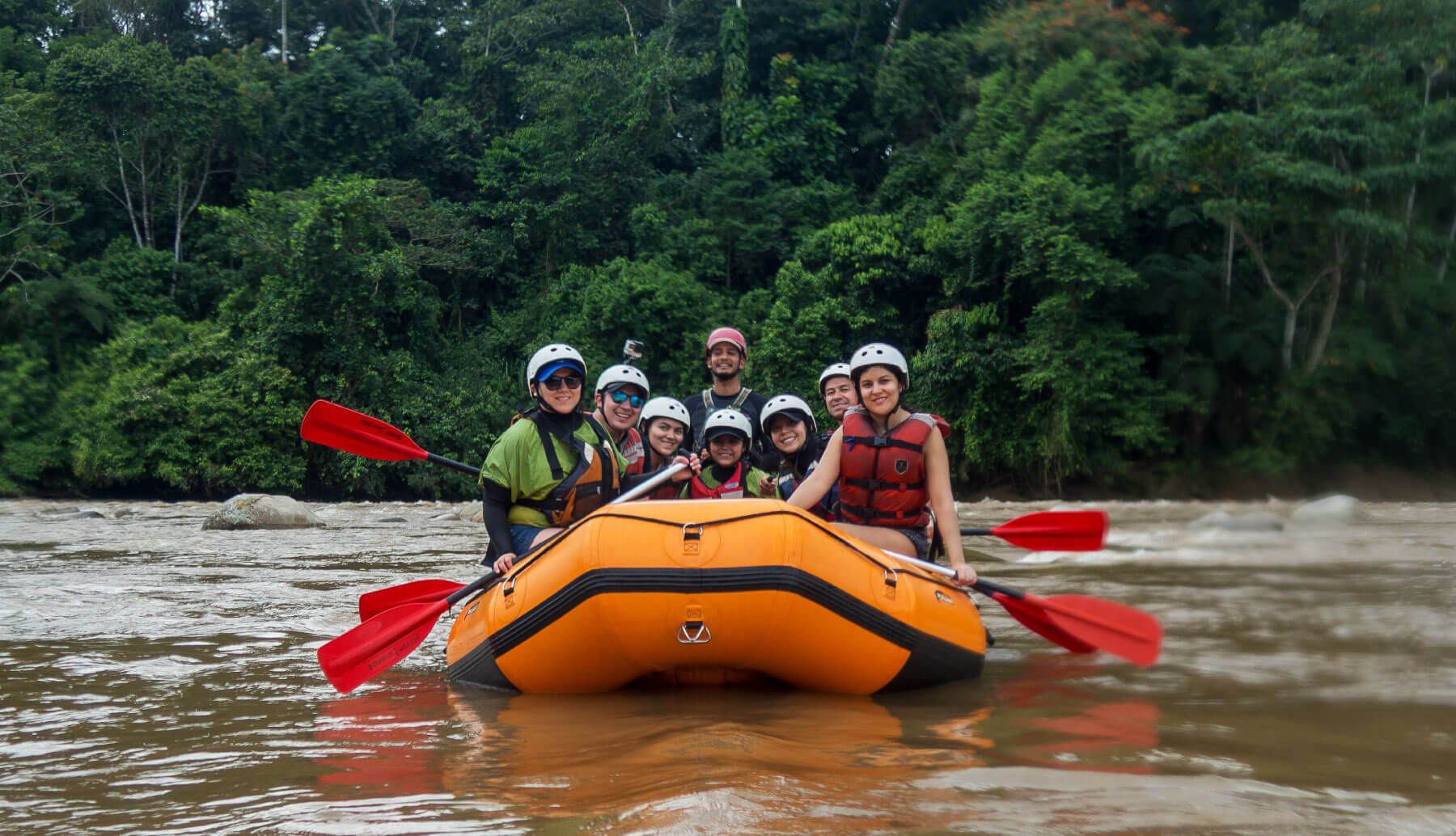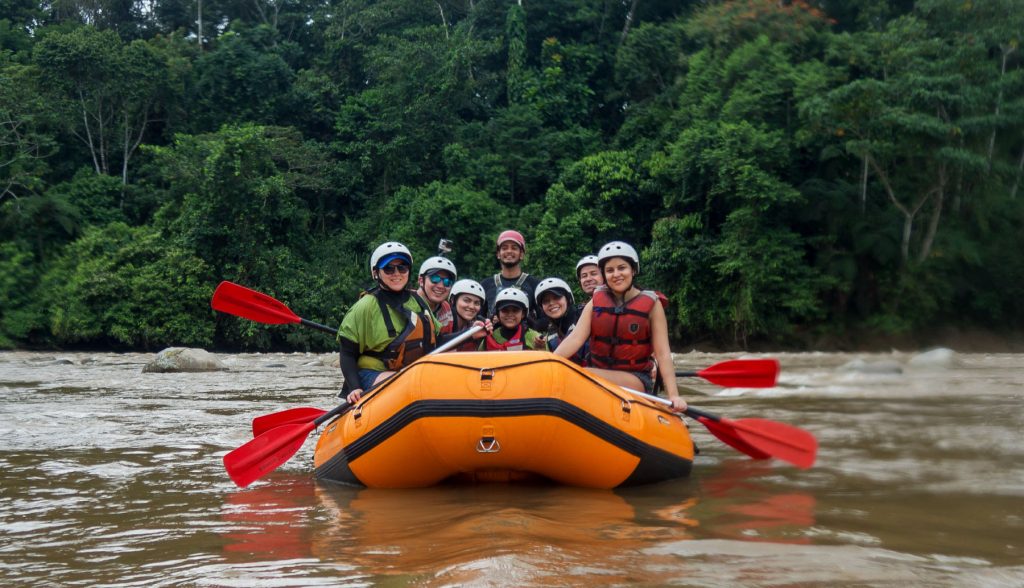 Napo River is situated in northeastern Ecuador and northeastern Peru as it flows from the eastern slopes of the Andes in Ecuador and descends generally eastward to the Peruvian border. From there, the 1075 km long river turns southeastward and continues its journey through dense tropical rain forests, joining the Amazon River.
Explored by the Spanish soldier and Amazon explorer Francisco de Orellana in 1540 and then by the Portuguese Amazon explorer Pedro Teixiera in 1638, the Napo River is an important transportation artery, for much of it, is navigable and makes an enjoyable rafting experience in Ecuador to embark on, even with the smallest ones.
The lush jungle surroundings, mountainous horizons, and songs of Amazonian birds will accompany a journey on a gentle Class II rapids of the Napo river that will be always remembered as an excellent family rafting experience in Ecuador.